Billboard Home | Billboard FAQ | Project Costs | Media
**NEWS**
1/7/07 - DYNASTY IN THE MAKING?? CONGRATS TO THE LSU TIGERS, THE FIRST TEAM TO WIN TWO BCS CHAMPIONSHIPS.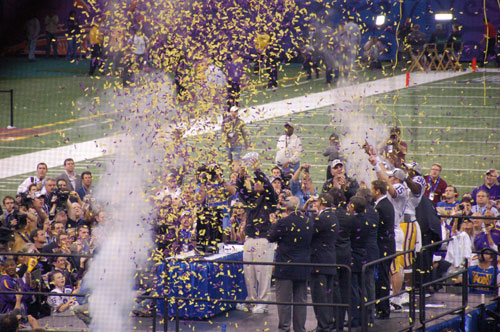 12/2/07 - WE 'GOIN TO 'DA 'SHIP!
7/6/07 - WELCOME SI.COM READERS...
3/7/06 - ONEPEAT WAS DISCUSSED ON ESPN RADIO THIS AFTERNOON! ALSO, THE USC DAILY TROJAN STUDENT NEWSPAPER RAN YET ANOTHER STORY ON OUR CAMPAIGN.
3/6/06 - WE HAVE POSTED A LIST OF ALL DONORS.
WE HAVE POSTED A PICTURE OF THE TRUCK IN FRONT OF ESPN HQ (SEE BELOW). MORE PICTURES TO FOLLOW. THE TRUCK IS CIRCLING ESPN TODAY THRU THURSDAY.
3/3/06 - WE HAVE SENT $2,625 TO THE LOUISIANA DISASTER RECOVERY FOUNDATION.
WANT TO SEE THE MOBILE BILLBOARD TRUCK ON SPORTSCENTER? SHOOT AN EMAIL TO ASKESPNTV@ESPN.TWDC.COM
3/2/06 - THE MOBILE BILLBOARD TRUCK BEGAN DRIVING AROUND ESPN HEADQUARTERS THIS MORNING. IT WILL BE RETURNING TOMORROW MORNING AT 7AM EST.
2/23/06 - THE LOS ANGELES BOARD HAS POSTED!! IT IS ABOUT 1500 FEET FROM THE USC CAMPUS -- PICTURES BELOW!
LISTEN TO THE BEST RADIO INTERVIEW TO DATE!
---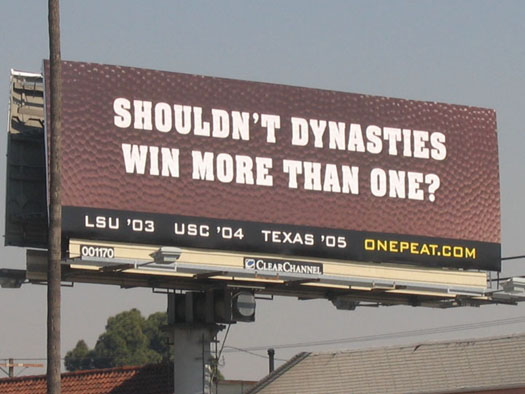 We have purchased billboard space 1500 feet from the USC campus in Los Angeles.
---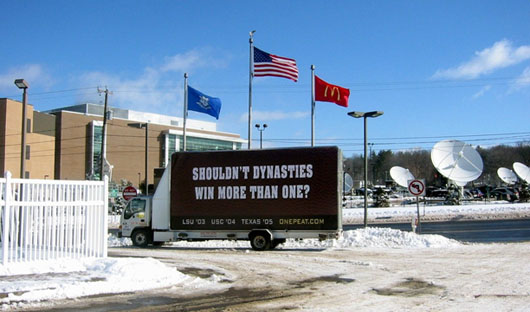 We have rented a mobile billboard truck to drive around ESPN's Headquarters in Bristol, CT.
HERE'S SOME INITIAL FEEDBACK ON THE ESPN BILLBOARD --
---------- Forwarded message ----------
From: L, F <x@espn.com>
Date: Mar 2, 2006 10:09 AM
Subject: Get a life
To: mail@onepeat.com
Y'all need to get a life. USC won the AP National Championship in 2003, therefore it does count as a National Championship, even if it is only part of one. Stop acting like the red-headed stepchild who doesn't get enough attention from mommy and daddy. Also even though you are trying to do the right thing by donating the money to a Katrina fund, shouldn't all you energy be placed there? Why put up all these billboards ragging on "one of the best teams of all time" when you could put up a billboard directly asking people to help out with the Katrina fund? GET A LIFE!!!!

By the way FIGHT ON TROJANS!

F. L.
Studio Production, ESPN
---
GEAUX TIGERS!!!
HOOK 'EM HORNS!!!
GO BRUINS!!!
Note: This website is not affiliated in any way with LSU, USC, Texas, UCLA or any other university.